For the sixth consecutive year,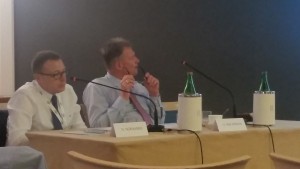 representatives of the stakeholders involved in promoting accurate diagnostic testing in pathology for effective anti-cancer drug selection gathered in the second weekend of May 2017, in Naples, Italy.
This very dynamic meeting always brings much discussion of the current key issues, and importantly, proposed solutions to optimising diagnostic testing quality so that patients can have reliable and appropriate test results. This is important because reliable diagnostic testing forms the foundation for much of the decision making administering targeted therapeutics.
Stakeholders present at the 6th External Quality Assessment (EQA)  meeting included patholo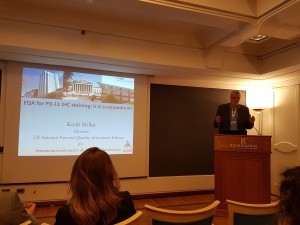 gists, molecular biologists, geneticists, quality managers, medical oncologists, representatives of the pharmaceutical companies, vendors of controls and standards for diagnostic methods and equipment and representation from EFPIA/EBE (European Federation of Pharmaceutical Industries and Associations /European Biopharmaceutical Enterprises).
The meeting was a focussed meeting, no more than 80 participants, and  already proven to be effective by creating guidelines on a key aspect of quality. The topics discussed ranged from challenges in PD-L1 assessment, quality of liquid biopsy testing and its applications, and molecular pathology, specifically, the new challenges associated with implementation of Next Generation Sequencing (NGS) in the clinic with a great collaborative input and discussion between different EQA providers from around the world and also the contribution of an industry perspective.
The Naples meeting is organised by the Italian Association of Medical Oncology (AIOM) together with the European Society of Pathology (ESP) and the Italian Association of Surgical Pathology (SIAPEC-IAP), with the endorsement of the European Society of Medical Oncology (ESMO).
The 2017 meeting not only celebrated its sixth anniversary, but also the 2nd Annual General Meeting of IQN Path ASBL, a new organisation that brings all stakeholders together who are involvement EQA. The meeting had a good attendance of EQA providers from around the world and also from companies, some participants flying in from as far away as Vancouver and San Francisco, demonstrating the enthusiasm amongst the participants for both the content of the meeting and the desire to tackle these challenging issues. Many ideas for new projects were put forward and IQN Path will seek to prioritise these proposals and support the start up of new project proposals
.